Lamb
Locally grown from Superior Farms in Dixon, CA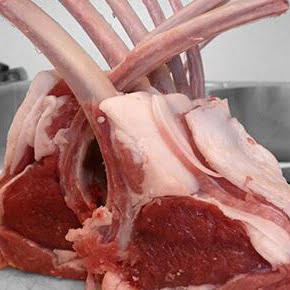 We sell only domestic lambs, from Superior Farms in Dixon, California.  We carry the most commonly requested lamb parts as listed below.  We can also get whole lambs and if requested, will cut and wrap to a customer's specifications.  Please call for availability of products as not all items are available at all times.
When lamb is butchered it is usually sorted into 3 types of meat: forequarter, hindquarter and loin. The forequarter is the front third of the lamb and includes the neck, shoulder, ribs and front legs. The hindquarter includes the hip and rear legs and the loin is everything in between the two.
Chops
Small Loin
O-Bone
Rib
Sirloin Boneless
Sirloin Bone-In
Shoulder
Center Cut Leg Steaks
Crown Lamb Roast
Cubes
Ground Lamb Chuck, Bulk
Ground Lamb Chuck, Patties
Whole Lamb
Whole lambs are 45-55 lbs.  or 55-65 lbs.
Allow 10-14 days for processing, all lambs are cut to order.
A $50.00 non-refundable deposit is required at time of order.